MESH
D | DECORATIVE MESH
Our decorative mesh range offers unique mesh patterns that can accent architectural designs. Customers have a choice of colours, patterns, finishes and textures. Decorative mesh is a contemporary material for highly visible interior design and exterior features.

Specifications
Mesh Reference
Nominal size of Mesh
Thickness* (mm)
Strand Width (mm)
Weight
kg/m2
± 10%
Standard**
sheet SWMxLWM(mm)
SWM (mm)
LWM (mm)
DM3032
25
40/81
3.0
3.2
6.05
2440 x 1220
CDM3032
50
137
3.0
3.2
2.68
2440 x 1220
* Also available in material such as Aluminium and Stainless Steel.
Medium Mesh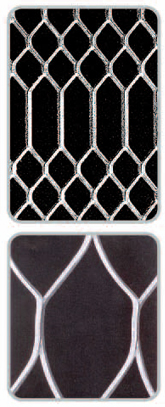 *Pictures are not representative of actual size